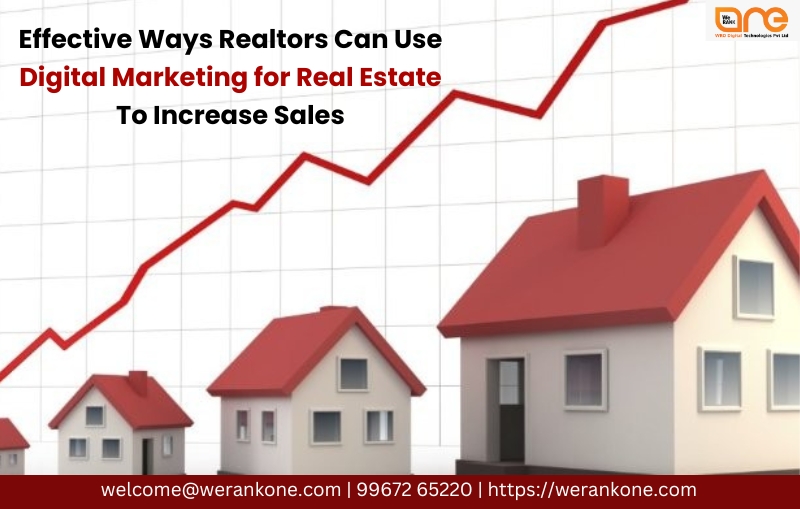 Digital marketing has driven major transformation in the real estate industry over the last decade and the results are quite unbelievable. Buyers and real estate investors research thoroughly online about the property, rates, trends, etc. before making any final decision. This is why Real Estate Digital Marketing Strategy is becoming popular among real estate companies to attract the right people and build brand trust.  
Traditional marketing techniques such as print media, flyers, newspapers, billboards, etc. alone won't serve the purpose of getting people's attention. If you want to maximize your brand presence and upscale your sales, you must take the path towards digital marketing excellence. You may face fierce competition as more players have already set their foot in this field. 
THE SIGNIFICANCE OF REAL ESTATE DIGITAL MARKETING
Digital Marketing plays an important role in the real estate market, where it helps real estate developers and agents to:
Create strong brand awareness.

Generate interest among the audience with compelling brand presence.

Grow and connect with a large database of qualified leads and prospective buyers.
There are various digital marketing approaches to promote real estate projects such as email marketing, online advertising, PR campaigns, live events, etc. giving the competitive edge that drives sales and assures your future success. 
IMPLEMENT THESE ULTIMATE REAL ESTATE DIGITAL MARKETING STRATEGY FOR SUCCESSFUL OUTCOMES
To help you understand how digital marketing works for real estate industries, implement this digital marketing plan for real estate to generate more leads and turn them into customers.
Know Your Market Positioning with Real Estate Market Research & Analysis
Use market analysis tools and softwares such as SEMRush and Moz that offer comprehensive and valuable data on your competitors' audience base, including their online positioning, brand awareness, advertising, and marketing tactics. The research data also helps you understand market trends, audience demands, and the most valuable digital platforms for your business. This will help you set your brand marketing goals based on the analysis helping you save your time and money while ensuring your marketing strategy and budget are planned giving you the highest ROI potential.
Set Your Marketing Goals
Digital Marketing for real estate has become extremely competitive and if you want to be successful, you need to set your marketing goals. Whether you want to grow your database, increase referrals, improve your lead conversion, and enhance your brand presence online, create a plan of action that covers your goals, budget, digital marketing techniques, channels, and type of content.  
Create Your Online Presence 
People rely on online sources for information before making informed decisions. If you don't provide your business information online, you'll be dismissed by the audience. The more ways you place your business online, the more your target audience will have the opportunity to benefit through your services. With thousands of online directories, and listing websites as well as social media platforms available out there, create your business profiles to show your presence online and improve your local citation. Begin with the Google My Business Profile, the face of your business in the digital world. It provides all the details including your business name, address, phone number, contact number, profile description, reviews, appointment booking link, recent posts, and more that are displayed directly on the result pages of Google Search and Maps. This will determine your credibility while driving more attention to your business.
Make a User-Friendly Website
When people search for your real estate business online, it is necessary to make a positive impression to have an impact on how people view your business. Many businesses lose their clients due to slow-loading websites, if it isn't mobile-friendly or have easy navigation. Real estate websites can be heavy to load, with so many listing pages and photos causing more trouble for the users. Therefore, investing in website development and SEO optimization can upscale your website to top Google searches with valuable and relevant content and keywords. 
If you don't have a website, you need to dive into the digital marketing efforts to begin with. Most people can raise alarm if you don't have a website doubting your genuity, especially when they are buying their dream home or commercial office. Make sure it is responsive and well-optimized for every device including mobile phones as mobile search is gaining ground across all industries.
Focus on Real Estate Content Marketing
Real Estate digital marketing can be intensive and only consistent high-quality content will get the results that you desire. The customers are already well-informed and they will aim for the relevant information or else they'll move on. Focus on creating relevant and valuable content instead of placing only property sales. You can showcase the destination, and neighbourhood, give them information on contracts, how to purchase the property, informative blogs, attractive social media posts, and more to support the audience's needs. Aim to generate content that helps and supports the audience and the value you bring to the table rather than just pushing the sale. Implement SEO strategies and choose the right digital platforms to reach a wider audience. However, maintain your brand image and tone across every platform to keep your authenticity and credibility.
Drive Sales with Real Estate Video Marketing
You may wonder if video really sells properties. Well, all the stats point towards a definite 'yes'. Videos are visually stimulating, attracting major traffic and converting into potential leads. Leverage the power of video marketing with unique ad concepts, virtual tours, live events, informative short reels, 3D animations, YouTube videos, and other educational video content. Shorter video reels perform exceptionally well on YouTube shorts, Instagram, Pinterest, and other platforms. Video content can be easily recorded on your mobile devices at a lower cost. Many realtors have benefited through video marketing in the following ways:
Clearly explain concepts.

Get more meeting requests.

Saves time as a single video can be shared with prospective customers and on all social media sites.

Drives property sales faster and strengthens a personal connection.
Commit to the Best Practices of Real Estate SEO Marketing
SEO is commonly overlooked as it may take six to twelve months to bring the desired results. However, these results eventually show up in the form of free, organic traffic from reliable sources.
Conduct keyword research and strategically include high-volume keywords in website content, blogs, and articles.

Avoid keyword stuffing that is not related to your business or content, or else your page will get penalized.

By guest posting on other well-regarded real estate marketing websites, you can create quality backlinks.

It will be beneficial to hire an agency handling digital marketing in real estate that can help you with expert SEO services.
Use Real Estate Ad Retargeting to Remain Present in Your Client's Mind
Ad retargeting serves as a reminder to the audience who have previously interacted with your website, social media pages, or advertisements. This is a reliable source for generating leads. If your real estate company's advertisement meets the needs of customers looking for terms related to your brand and company, they will find your page. 
The retargeted ad messages are personalized according to the targeted audience, helping you to attract the potential ones and convert these leads into clients. Retargeting enables agents to serve ads on search engines, social media sites, and email platforms. Through retargeting, agencies can display advertisements on email platforms, various websites, social media sites such as Facebook, Instagram, LinkedIn, etc., and search engines (PPC and Google ads). Brands using retargeting get a 10x higher click-through rate than those who don't.
PROVEN DIGITAL MARKETING STRATEGY IN REAL ESTATE WITH TANGIBLE RESULTS
It can be difficult to choose a real estate digital marketing company that promises to get the outcomes you want. Any firm that invests in digital marketing is making a significant step as it involves giving someone else access to your brand. 
WRO Digital Technologies is a well-known name in the digital marketing world. As the best real estate content marketing agency, we provide creative real estate digital marketing ideas and strategic support to enhance your brand's success. We have a proven track record of delivering effective digital marketing strategy in real estate and long-term impacts to all the major leagues we have collaborated with. Our digital marketing agency not only focuses on reaching a larger audience, but also working on the effectiveness of the conversion process in order to bring fruitful results for your real estate business.
Sign up our newsletter to get update information, news and free insight.