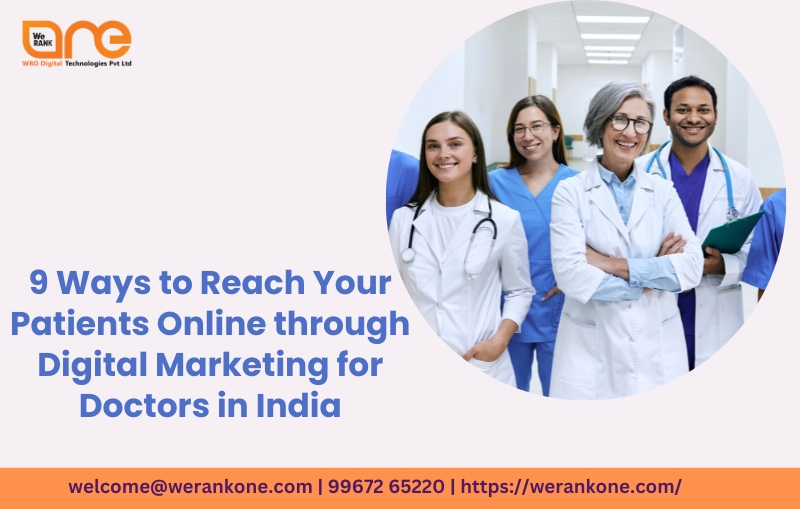 Digital marketing for doctors of all specialties brings countless chances in the digital world to engage with patients, establish a presence, and successfully increase their reach. Indian doctors must use digital marketing to boost their reputations because a lot of customers look for medical care and services online. Let's explore nine effective ways of using digital marketing strategies to connect with potential clients:
Build a Professional Website
Your website serves as a showcase of your professional expertise. Make sure it is optimized, user-friendly, adaptable to mobile devices, and contains critical details about your practice, services, and contact information. Implement search engine optimization (SEO) techniques and keyword targeting to rise to the top of local search results.
Engage on Social Media
Social media platforms such as Facebook, Instagram, LinkedIn, Pinterest, and more offer an easy way to connect with your patients. You can position yourself as a trusted expert by sharing informative content, offering health advice, showcasing case studies, and patient testimonials. You can easily engage with your audience and respond to their queries promptly. You can also reach your targeted audience by running relevant, targeted ads. 
Content Marketing
Content marketing allows you to establish your authority and attract patients to your online platforms. Write about health topics, relevant treatments, and valuable lifestyle tips for blogs. You can share these blog posts and article links on various platforms to direct your patients looking for specific information. Healthcare online marketing practices for website and social media, include the use of optimized content with SEO techniques, where you can improve your online rankings, increase website traffic, and increase engagement on your business profiles.
Online Reviews and Testimonials
Build trust and authenticity with patient reviews. Encourage your satisfied patients to leave positive reviews on platforms like Google My Business, Practo, or other business profiles. Positive reviews can influence potential patients to choose your services. Respond to both positive and negative reviews. This will maintain your positive presence online attracting new patients.
Email Marketing
Email marketing helps in nurturing your relationship with patients through regular communication and updates. By collecting patient email addresses you can share newsletters, latest updates, health tips, personalized messages, and information about your practice. Doctors can create promotional mail campaigns based on patient interests and preferences, resulting in higher click-through rates. 
Video Marketing
Video marketing techniques are personal, engaging, and shareable. Healthcare professionals can create long informative videos or short reels on social media, YouTube, or video-sharing platforms about their intro, common health issues, treatment procedures, or even a tour of the clinic. With an interactive Q&A and live sessions, doctors can give personal consultations and directly connect to a wider audience.
Local SEO
Attract patients from your nearby locations to your clinic or hospital with local SEO methods. By optimizing and providing accurate and up-to-date information such as doctor or clinic name, address, phone number, website, services, and category across all platforms, doctors can improve their presence in local searches. Make use of local keywords relevant to your location and specialty on your business profiles, website, meta tags, or blog posts to increase your visibility. Create your Google My Business profile to appear in local searches and on Google Maps.
Telemedicine and Online Consultations
Doctors in India can now offer on-call or online consultations through telemedicine expanding their reach to potential patients. It fosters patient engagement and improves healthcare accessibility. Doctors can engage through video calls, phone calls, and messaging platforms. Ensure your website has a user-friendly appointment booking system for virtual visits.
Collaborate with Medical Portals & Influencers
Partnering with online medical portals such as Practo, Lybrate, etc., and popular influencers or bloggers that have dedicated followers can gain exposure to a wide audience and tap into their marketing capabilities. This will also help in building brand awareness, establishing trust factor, and driving newer patients. Additionally, collaborating allows you to share valuable and educational content through their platform while helping potential patients reach you, seeking healthcare advice or recommendations from trusted professionals.
Incorporating these strategies of online marketing for doctors into your medical practice can majorly enhance your online presence and help you connect with patients in India and nearby areas more effectively. However, it's essential to keep in mind that it is important to hire a digital marketing agency for doctors seeking professional digital marketing services. WRO Digital Technologies, the best healthcare digital marketing agency in Navi Mumbai is proficient in this ever-evolving field, and staying updated with the latest trends and best practices that is crucial for long-term success.
To make the most of your digital marketing efforts, consider consulting our doctors marketing agency which specializes in healthcare marketing. We are a well-known digital marketing agency in India, providing tailored strategies and insights to help your practice thrive in the online landscape. Try implementing  our strategies and take your medical practice to new heights.
Sign up our newsletter to get update information, news and free insight.